HISTORY
CHAPTER TWO: (1980) THE ERA OF IMPLANTABLE INSULIN PUMP THERAPY FOR DIABETES PATIENTS BEGINS!
Introduction
During the course of a  remarkable 12 month period beginning in September of 1980 four centers, two in the United States and two in Europe placed implantable insulin pumps in diabetic patients.  The implantable insulin pump had progressed from an idea to an immature reality – and started down the difficult road of development.  Numerous obstacles would arise and the inadequacy of the technology available would be discovered.  Decades would pass before technological capabilities were adequate to the task.
THE FIRST IMPLANTATION OF AN INSULIN PUMP IN A HUMAN SUBJECT 
The University of Minnesota, September 5, 1980
The Minnesota group published their report of their earlier implantation of an Infusaid Model 400, Constant Rate infusion pump, delivering insulin intravenously (Superior Vena Cava) in a 54 year old, type 2 diabetic man (Treatment of a Type II Diabetic by a Totally Implantable Insulin Infusion Device.  Authors: Buchwald, Barbosa, Varco, Rhode, Rupp, Schwartz, Goldenberg, Rubelin & Blackshear. Lancet, June 6, 1981). 
The pump was not activated until November 6, 1980 (the researchers allowed several weeks following the September 5, 1980 implantation for healing of the surgical wound and performed experiments with an external intravenous insulin infusion device in order to better estimate an appropriate starting insulin dose and adjust the concentration of the insulin solution to meet this dose (the pump was only capable of delivering a constant basal rate and one, additional, intermittent higher rate).
Glycemic control while using the implantable insulin pump was much improved over control achieved with subcutaneous injections and subcutaneous insulin infusion by external pump.
Note:  The insulin pump that was first implanted in a human was built by Infusaid Corporation of Sharon, Massachusetts.  In their earlier 1977 paper reporting long-term (i.e., one year) implantation of a drug pump delivering heparin in animals, the authors credited Metal Bellows of Sharron, Massachusetts as providing support for development of that pump.  We are searching for information regarding the merger of these two companies.
THE SECOND IMPLANTATION OF AN INSULIN PUMP IN A HUMAN SUBJECT
The University of New Mexico, January 7, 1981
This second implantation was reported in a paper published in 1982 (A Remotely Programmable Insulin Delivery System.  Authors: Schade, Eaton, Edwards, Doberneck, Spencer, Carlson, Bair, Love, Urenda & Gaona;  JAMA Vol 247(13) pp 1848-1853 (1982) .
The University of New Mexico/Sandia pump was implanted in a 41 year-old type 1 diabetic man (diagnosis at 5 years of age).  This pump was very different than the Infusaid 400 pump implanted by the Minnesota group.  The details of the UNM/Sandia pump design are shown in the first Figure 1 below and the pump, reservoir and controller are depicted in the second Figure 1 below.  The pump was not limited to a single basal flow rate and could be programmed following implantation  to deliver any of 15 different basal rates (from 0.78 units/hour to 11.7 units/hour) and any of 15 different bolus deliveries (from 1.66 units to 24.9 units).  Insulin was delivered intraperitoneally.
Glycemic control was much improved during implantable pump delivery of insulin as compared to subcutaneous injection or subcutaneous infusion by external pump.  Following discharge from the hospital the authors report than only two hypoglycemic episodes occurred and both were easily resolved with ingestion of fruit juice.  In addition, the authors state that:  "The diabetic patient subjectively expresses an improved sense of well-being and an improved life-style free from large swings in blood glucose concentration."
The two figures below are from the original publication referenced above.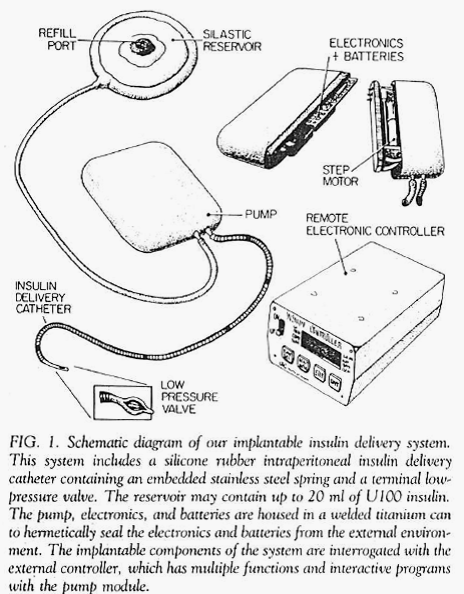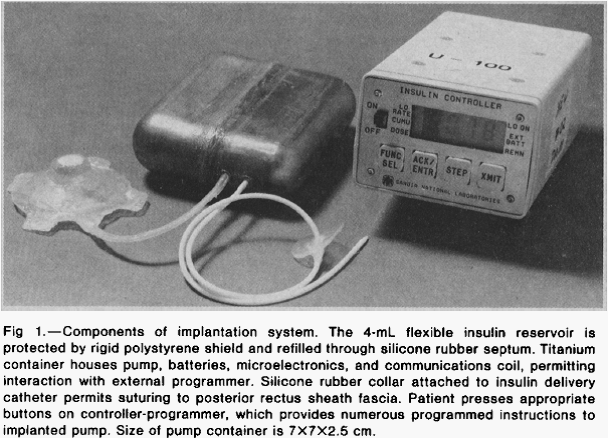 THE THIRD IMPLANTATION OF AN INSULIN PUMP IN A HUMAN SUBJECT
Vienna, Austria, April 8, 1981
Just three months after the second implantation of an insulin pump in a human diabetic a third group implanted a device of different design than the previous two pumps.  A group in Vienna, Austria reported on the implantation of a Siemens PFA 01 implantable insulin pump in a 44 year old type 1 diabetic man  (Long-term Continuous Intraperitoneal Insulin Infusion with an Implanted Remote-Controlled Insulin Infusion Device.  Authors: Irsigler, Kritz, Hagmuller, Franetzki, Prestele, Thurow & Gibson: Diabetes Vol 30. December 1981; pages 1072-1075.)
The patient was implanted on April 8, 1981 and the delivery catheter was positioned to deliver insulin intraperitoneally.  A special insulin developed by Hoechst was used (100 U/ml neutral porcine with an added "special" stabilizing compound).  This insulin was the predecessor to the 400 U/ml HOE PH 21 insulin successfully used in our MiniMed MIP 2001 pumps in 1992.
The pump (Siemens PFA 01) could be remotely programmed to deliver any of 12 basal delivery rates (from 0.2 to 1.5 units per hour).  The delivery rate could be sharply increased with 12 additional, increased infusion rates for periods of one hour (from 1 to 15 units per hour) and automatically returning to the previous basal rate at the end of one hour.  As a safety factor, the pump enclosure was maintained at a negative pressure.
The authors report that "Hypoglycemic attacks vanished when using i.v. and i.p. infusions.." , and conclude glycemic control judged to be superior.  They conclude with the following statement: "The urgent primary studies proving that good control prevents late complications will only be possible when we have safer, but implantable devices."
Note:  See Figures 1 and 2 in the section below "Fourth Human Insulin Pump Implant" for a photo of the Siemens PFA 01 pump and DFA 01 controller unit.
THE FOURTH IMPLANTATION OF AN INSULIN PUMP IN A HUMAN SUBJECT
Montpellier, France, September 5, 1981
Five months later, a Siemens PFA 01 insulin pump was implanted in a type 1 diabetic patient in Montpellier (Total Implantation of a Remotely Controlled Insulin Minipump in a Human Insulin-Dependent Diabetic.  Authors: Selam, Slingeneyer, Chaptal, Franetzki, Prestele & Mirouze: Artificial Organs, Vol 6 No 3 August 1982).
The patient was severely unstable while on standard subcutaneous insulin injections (Her mean blood sugar was 196, Hemoglobin A1C 11.5 and she was experiencing 0.8 Hypoglycemic episodes per day).  Prior to implantation of the insulin pump the patient was maintained on intraperitoneal insulin delivered via a catheter that penetrated the skin and terminated in the peritoneum.  An external pump was used to deliver insulin through this catheter into the peritoneum.  Finally, she was implanted with the Siemens PFA 01 insulin pump with the following results (Mean blood sugar 123, Hemoglobin A1C 7.0 and 0.3 hypoglycemic episodes per day).  The full data (from the original publication referenced above) is presented in Table I below.

The following images of the Siemens PFA 01 Pump and controller (external view and internal view) are from the original publication as referenced above.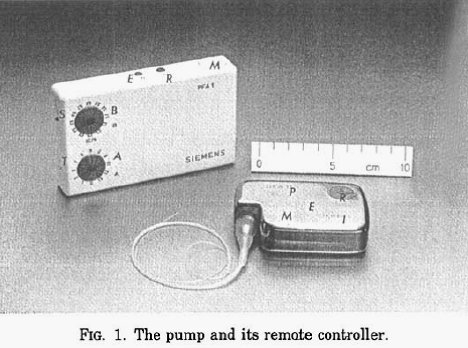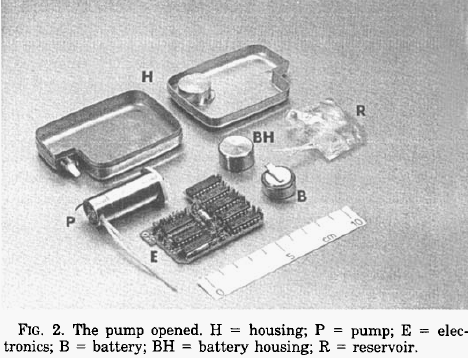 The French medical center where this research was conducted was in Montpellier, France which now has the largest population of Implantable Insulin Pump patients in the world.  This is where we travel in order to have our pumps refilled and maintained.
NOTE:  In the 1980s important ongoing research was being carried out in Montpellier.  Professors Mirouz (our Doctor Renards Mentor) and Selam were using an external pump with a catheter surgically inserted into the peritoneum – thereby achieving intraperitoneal insulin delivery and enabling them to study the physiological benefits of insulin via this route (admittedly without the comfort and convenience of the implantable insulin pump which had not reached the development state needed for long-term use).  We were lucky to be able to interview Jacky (see her video on our home page), a patient of Professors Mirouz and Selam who had intraperitoneal insulin delivery using an external pump for 11 years beginning in the early 1970s!